Portfolio / Pictures to Ponder
For Your Freedom and Ours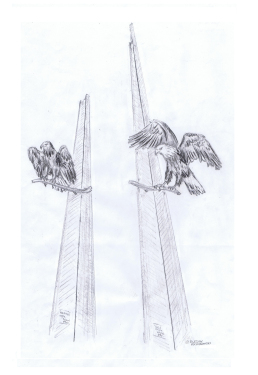 Click for Larger View
For Your Freedom and Ours concept drawing

The Allegory of For Your Freedom and Ours
Two larger-than-life eagles, perched on tapering spires, represent Poland and the United States. The eagles are looking forward, together, in mutual support as the two countries' histories have intertwined and overlapped even since the pilgrims of Jamestown, and that of the Revolutionary War, where Generals Pulaski and Kosciuszko gave their leadership support to General Washington.
The spires, over twenty-feet-tall, reference the grandness of these countries' histories. Freedom is an ongoing process. The canted and skewed spires signify the difficulties of upholding and retaining justice and liberty. The cracked and broken tips of the spires signify that freedom came with hardship and sacrifice.
Corten alloy and stainless steel are used for durability, permanence, and signify strength and longevity. These materials also differentiate the Polish white eagle and the American bald eagle.
Project Photos