Portfolio / Pictures to Ponder
Windward Sculpture Installation and Dedication at Egg Harbor, Wisc.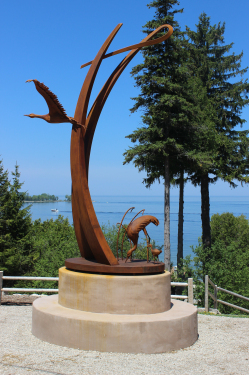 Click for Larger View
Over Memorial Day weekend, 2018, the sculpture 'Windward' was installed at Bay View Terrace Park in Egg Harbor, Wisconsin.

The sculpture was transported by truck and trailer to the site and lifted onto the base.

In spite of record breaking heat, as well as rain, both the installation and the dedication went smoothly.

With base, Windward stands 18-feet-tall. The flying crane has a seven-foot wing span.

The spires swoop and reference the action sails take when catching the wind. The oval base also hints of the shape of a boat.
Project Photos